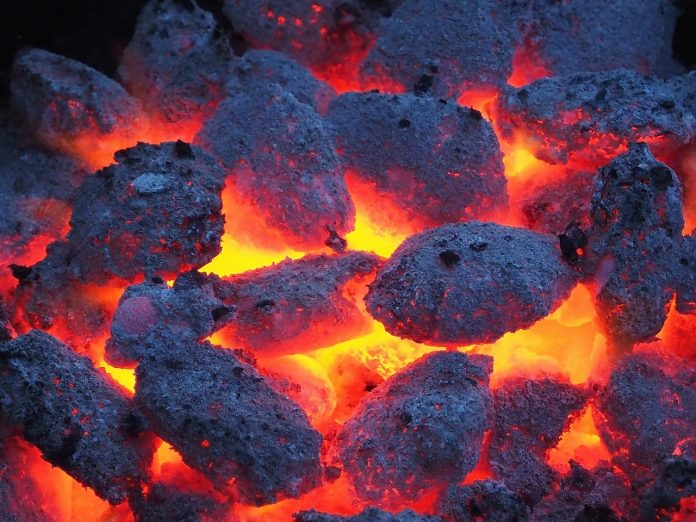 Ciemny, gęsty, śmierdzący dym, wydobywający się z kominów polskich domostw, to codzienność. Tak nie musi być – wystarczy zmienić metodę rozpalania w piecu na bardziej ekologiczną i ekonomiczną.
Gdyby zapytać znajomych, w jaki sposób rozpalają w swoich piecach, u większości z nich scenariusz zapewne wygląda podobnie: rozpałka, drewno i węgiel na wierzch. Faktycznie, to najbardziej tradycyjna, najpowszechniejsza metoda, lecz wiąże się z dużą utratą ciepła i jeszcze większym zanieczyszczeniem powietrza. Obecnie, niezależnie od jakości paliwa i typu pieca, zaleca się rozpalanie od góry. Dlaczego i na czym to właściwie polega?
Technika rozpalania od dołu
Na początek wyjaśnijmy sobie, dlaczego tradycyjna, najprostsza metoda nagle przestaje być taka dobra. Ano dlatego, że opał, który leży na wierzchu, jeszcze zanim zacznie się palić, pod wpływem ciepła osusza się, wydzielając parę wodną i gazy. To z kolei powoduje duże obniżenie kaloryczności węgla. W efekcie razem z dymem, czyli spalinami zanieczyszczonymi pyłem, do atmosfery ulatnia się do 30% opału! Jedna trzecia ciepła przeznaczonego do ogrzania domu ucieka w przestrzeń, a razem z nim pieniądze wydane na opał.
Dodatkowo często zdarza się, że po kilku godzinach trzeba dołożyć paliwa, by utrzymać właściwą temperaturę. Nowa porcja węgla dosypana na wierzch paleniska znów ogranicza przepływ ciepłego powietrza w piecu i kolejna część opału zamieniana jest w dym, zamiast tworzyć ciepło. Przy każdym takim dołożeniu węgla czy drewna powstaje nowa ogromna partia gęstego dymu i sadzy, które nie dość, że mocno zanieczyszczają powietrze, to na dodatek osadzają się we wnętrzu kotła i komina, zakłócając ich prawidłowe funkcjonowanie. Podsumowując: dużo strat, żadnych korzyści.
Oszczędniej i efektywniej – technika rozpalania od góry
Prawidłowe palenie w piecu polega na tym, by do atmosfery przenikały jak najmniejsze ilości dymu – gdy proces przebiega właściwie, spaliny są czyste, ponieważ zawierają jedynie parę wodną i bezbarwne gazy. I właśnie dlatego metoda rozpalania od góry sprawdza się tak dobrze.
Najogólniej rzecz ujmując, polega ona na przeniesieniu warstwy żaru z dołu na górę paleniska. Standardowy schemat rozpałka – drewno – węgiel zamienia się więc na węgiel – rozpałka – drewno. Co to daje? W ten sposób dym wydobywający się z warstwy nienagrzanego opału musi jeszcze przedostać się przez żar, gdzie ulega całkowitemu spaleniu. To oznacza mniej spalin wydobywających się kominem, a także większą ilość ciepła, które powstaje zamiast dymu. Wyniki badań wskazują, że tym banalnym sposobem ogranicza się emisję rakotwórczych substancji (w tym benzo-a-pirenu) o ok. 70%!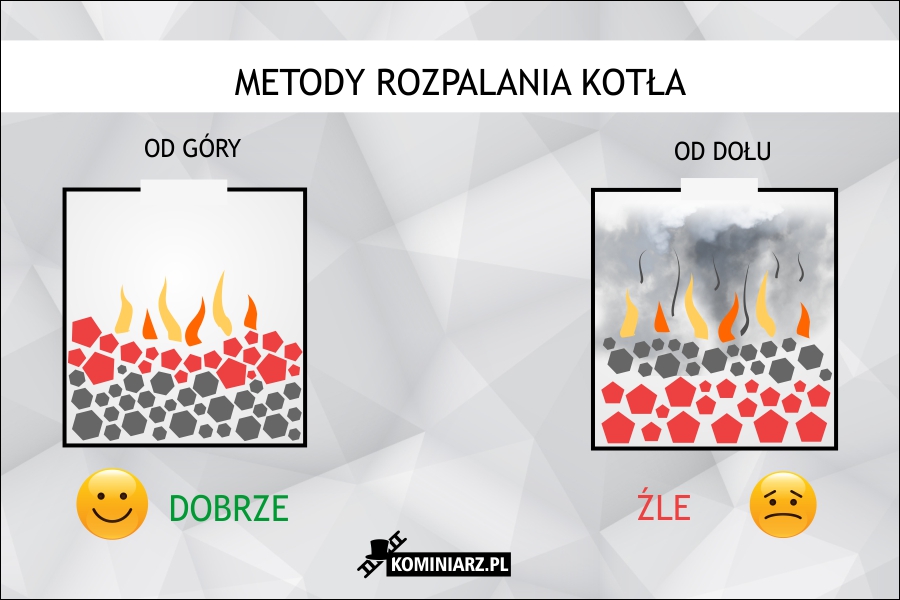 Zalety i (niewielkie) wady palenia od góry
Zatem podsumujmy: rozpalanie w piecu techniką od góry przyczynia się do poprawy jakości powietrza, pozwala zaoszczędzić wydatki na ogrzewanie do 30% i utrzymać kocioł oraz komin w lepszym stanie z powodu niedużej ilości sadzy. Za tą metodą przemawia również fakt, że nadaje się do zastosowania we wszystkich rodzajach pieców: od kuchennych, kaflowych, przez kominki, aż po powszechnie używane kotły zasypowe. Przy tym jest całkowicie bezpieczna.
Jednak, jak wszystko na świecie, i ta technika ma swoje wady. Po pierwsze, kocioł potrzebuje więcej czasu, żeby się nagrzać – zajmuje to nawet do ok. 60 minut. Drugi minus: po rozpaleniu nie ma możliwości dołożenia kolejnej porcji węgla. Trzeba zaczekać do całkowitego wypalenia opału, a następnie wszystkie czynności związane z rozpaleniem w piecu wykonać na nowo. Ponadto ta metoda nie należy do najłatwiejszych – aby się jej nauczyć, potrzeba trochę czasu i wprawy choćby w zasypaniu odpowiedniej ilości węgla.
Mimo wszystko powyższe nie zmienia faktu, że technika rozpalania od góry zdecydowanie jest najefektywniejsza. Na wady można przymknąć oko – i środowisko, i portfel będą za to wdzięczne.